We have top of the range solar panel cleaning kit and know how to clean solar panels on a professional basis.
Javlin cleaning and services are confident that we can help you with any of your solar panel cleaning needs, whether in a residential, agricultural, commercial, or industrial environment.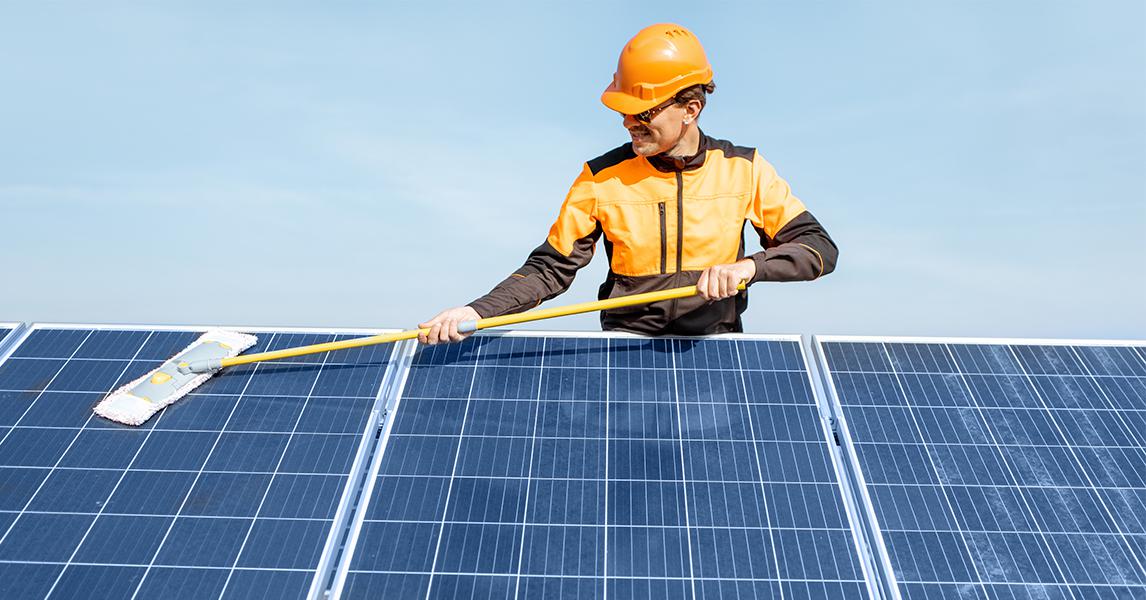 Can it Improve Efficiency?
We have been monitoring the increases in efficiency that solar panel cleaning can bring. Operations & maintenance departments of solar companies that we have cleaned solar panels for have also reported similar increases in efficiency from solar panel cleaning. 
How NOT to Clean Solar Panels?
It is not recommended by solar panel manufacturers to use chemicals to clean your panels. Tap water and rainwater will not clean solar panels sufficiently to keep them running at maximum efficiency. Using detergents to clean solar panels leaves a sticky microscopic film on the solar panel which attracts dirt and grime. Again, this will lead to your solar panels not running efficiently.
Solar Panels can be cleaned during the morning or evening. Due to the high temperatures cleaning the panel during the Afternoon may cause the glass seal to be damaged or even broken. To prevent damaging the panel, it is always recommended to avoid cleaning it under direct sunlight.
Never uses a cleaning agent on solar panels, instead relying on deionized water and a rotating-brush system to wash solar panels.
We use Demineralized and deionized water that is applied through our rotating-brush system. (Demineralized and deionized water share in that they are all types of purified water, meaning that they have undergone some treatment process to remove impurities and make the treated water suitable for a given use).

However, sometimes just water isn't enough, but everyone agrees that soap should never be used. That's why lubricant manufacturer released its Solar Panel Wash. The highly concentrated additive isn't a filmy soap, instead, it enhances water's ability to clean solar panels.
Routine solar panel cleaning will help you to:
Prevent dust & dirt build-up 
Improve energy efficiency
Get rid of bird poop
Prevent dust & dirt build-up
Improve energy efficiency
Remove bird's waste
Reduce Electricity bill
Disadvantages of without Cleaning
Efficiency will drop by 25% to 40%
Will increase the electricity bill
Reduce the life spam of system
Cleaning solar panels
Cleaning Steel structure
Cleaning underneath covered area
Cleaning the Surrounded area
Air blowing the batteries
Air blowing the inverters
Check wires for rodent bites
Cleaning the combiner box
Remove birds waste from the panel